To start this week, here is our card for Tuesday Trio's
Sketch #61
. Inner Hoarder voted for Copics to color our images this week, to justify our getting them in Portland, and both OCD Me and the POW were pleasantly surprised on how well they worked. Markers are not just for little girls anymore!
We needed to add an element of movement, so Creative Me had to figure out exactly what kind of movement to add. Finally, Creative Me settled on a shaker box. Construction is simple enough. Cut out a section of clear plastic or page protector and adhere to frame. Pour some beads or shaker material in the middle of your design, and use foam tape or lots of pop dots (with no air space for the beads to escape). This is the result:
With two rounds down, we are confident that we have earned at least our yellow belt in Scrap Book Organization. Who knows, with a little luck the POW will learn the Wushi Finger hold (Kung Fu Panda) of Scrapbooking, and we will be able to minimize PA Me's influence.
This week we are supposed to fanaticize about our dream scrap room, should the ever illusive Scrap Fairy appear on our door and grant us our scrapping room desire. This is a no strings attached, no fine print where it was actually some embezzler's Grand Cayman Island secret account that went to you instead, or that someone had to die for you to get your inheritance (we watch too many movies. Sorry!). Instead, it is your real fairy Godmother Moment (Disney version not Shrek version). Do not worry, no pumpkins or mice were harmed in the making of this scrap room!
The POW is convinced that we are officially old, or maybe just old to this, as we are almost happy with what we have. For while we still crave the New England style with which we grew up, we realize that we will never be found to be Martha Stewart's long lost niece.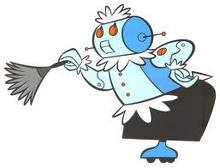 However, white cabinets and fluted molding is still a must! An island, rather than the old kitchen table for a work space would be nice, and it should be big enough for a couple of friends to come over and crop. A Rosie the Robot from the Jetson's (or any maid as long as she was free) is the only essential. That is probably why we are still here organizing our space! Time to Embrace that mess and make it clean… and keep it that way! A girl can dream can't she?!
Before pictures at the end of the Week!